How videos can improve your SEO ranking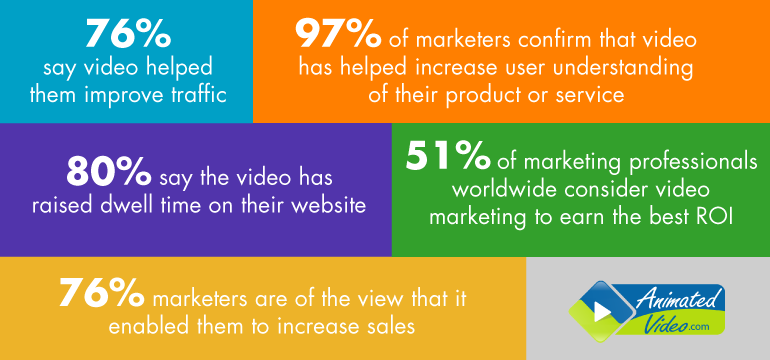 In this competitive era, having your website rank at the top of Google is something every business aims for. Well! When it comes to website ranking and online marketing, you might be familiar with the term search engine optimization. If you rank better in search engines, then it will become effortless for you to attract and convert customers. Moreover, it also improves your brand reputation and loyalty.
Indeed, we all know the benefits of website ranking, but we all lack in figuring out the strategies that prove valuable for Google ranking. Are you also struggling to make the right decision? Are you still confused about which strategy can help you secure those first three positions? Well! That's where videos come into play.
People all over the globe are crazy about different video content like explainer videos, testimonial videos, product videos, educational videos, etc. That's why more than 87% of marketers use videos to reach their business goals.
Well! The reasons for incorporating video in your marketing strategy are endless. Wanna know why videos for improving website ranking are considered? Dive into this article to know more about how videos can improve your SEO ranking.
Different ways videos generate quick SEO results
Let's roll!
Videos generate more backlinks
The number of quality backlinks is one of the most important factors considered by Google. The more backlinks, the higher the shares, and the better the ranking. According to the statistics, 90% of people share videos over the web if they find it informative and engaging.
So, what does it actually indicate? The number of shares and referral traffic is directly proportional to each other. The more people link to your domain and contact, the easier it becomes to improve the quality, authority and authenticity of your brand.
Do you know 91% of the pages are unable to generate traffic from Google, and lack of backlinks is one of the major reasons? So, if you want to increase the number of backlinks and engagement, then do not forget to create appealing and relevant videos on your site.
Videos improve the quality of content
Search engines such as Google also rank good quality content at the top. By providing valuable content to the visitors, you can easily accelerate your Google ranking and build strong relations with the customers.
And the video is one of the highly prefered contents that help you share complex ideas in a simplified and attractive way. According to the statistics, 91% of the individuals prefer visual content instead of writing long boring texts.
Say if you want to share some content in a step-by-step format, then obviously people get to learn more through images and visuals. By sharing content in the form of videos, you can easily excite more people and help them better understand your complex ideas in the simplest way.
Videos not only help in expressing content but also allow you to make your boring content of high quality that further helps you stand out from the crowd.
Videos retain more visitors
There are around 82%of the people who watch videos on Twitter.
Every day, half a billion people spend their time watching videos on Facebook.
Social videos get 12time more shares as compared to images and texts.
From all the above statistics, it can be observed that videos engage more people. Remember, the higher the engagement, the more people love to spend time on your website and watch the content. And more visitors spend time on your website; Google will automatically start ranking your website. Because Google prefers the website on which people spend more time.
It believes that visitors stay longer only on those websites that offer good quality content to their visitors. So, if you also want to build stronger relations with your customers and inspire them to retain for longer, then start showcasing your ideas in the form of videos.
Google loves videos
When Google crawls the website, it not only evaluates the quality of content and number of visitors on your website but also considers the content relevance to your website and the form of media you have in your bucket list for your visitors.
When we talk about social media platforms, Youtube is one of the second most popular platforms that is preferred by people to learn new concepts and get in-depth information. What it actually shows? It means that both people and Google love video more than other forms of content.
So, if you are expressing your thoughts and sharing the information by creating attractive and appealing videos, then there are more chances that you can achieve
Source: rankpay
Videos increase website traffic
There are no two opinions that videos are traffic magnets. By uploading videos, it becomes really easy to catch the attention of visitors. Remember, the more traffic, the higher the chances to improve search engine ranking.
According to the statistics, organizations that incorporate videos on their website landing pages observe a 157% improvement in their organic traffic. And Google always prefers those websites having higher organic traffic. So, always implement those strategies that help you increase your website traffic and perform better in search results.
Videos are short and affordable
Last but not least, the reason for using videos is that it is not only easy to create but also it is cost-effective. You can express your ideas in a short span of time.
In this busy schedule, no one has enough time to read long texts. They aim to get useful information in a short time. Say if they don't get the right information in the first 1-2minutes, then mostly they will redirect another website, which further increases your bounce rate. And Google doesn't crawl the website having more bounce rate.
So, whenever you create videos, always aim for 1-2 minutes videos. It will help you shoot up your visitors and website ranking on Google.
Prefer reading- Tips to double the success of your Video Marketing Campaign.
In a Nutshell
Video is one of the types of content that will continually grow in the coming times. People not only love watching videos but also remember the content shared through visuals.
And yes! Videos play a huge role in improving your search results. The reasons mentioned above are few. But hopefully, the above-listed points are enough to make you believe how important videos are in improving the SEO ranking.
So, what are you waiting for? Start giving something valuable to your customers. Still, having second thoughts? Don't hesitate to add in the comments below.